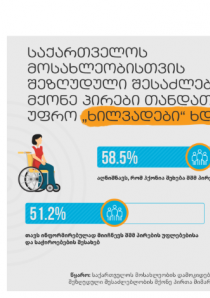 PUBLIC ATTITUDES TOWARDS PERSONS WITH DISABILITIES IN GEORGIA
The research examines Georgia's social environment focusing on the public attitudes towards persons with disabilities in seven areas – awareness, stigma and stereotypes, education, employment, rights and privileges, basic needs and social integration, and state policies.
The research was conducted by the Georgian research company "Institute of Social Studies and Analysis" (ISSA) in 2019 and 2020.
The research was commissioned by UNDP as part of a USD 2 million joint programme to improve social protection for persons with disabilities, implemented by six UN agencies with the resources available though the United Nation's Fund for Sustainable Development Goals.